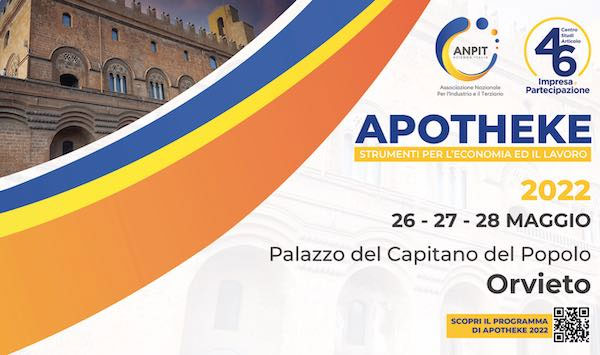 The second edition of "Apotheke," the training school of Anpit - National Association for Industry and the Tertiary Sector, dedicated to the economic and legal training of Anpit executives, entrepreneurs and professionals, starts today in the congress venue of the Palazzo del Capitano del Popolo in Orvieto, under the patronage of the same municipality. The purpose of the three-day event (May 26-28) is to provide valuable support on topics of interest to their business.

Lectures and in-depth moments on topics such as:
participation

tax reform

the new rules on the use of social safety nets

various other current economic topics.

Really large participation of personalities, from political representatives to business executives, presidents of institutions, etc. (see the detailed program by clicking here).

Vast topics will be addressed:
Asseveration of Compliance (Asse.Co.): An opportunity for businesses

Worker participation between history and law

Participating to compete: human relations as the foundation of the organization

Tax reform: what prospects?

The new social shock absorbers

Truth & Business: an independent publishing proposal

Anpit 2030+: Organizational Social Responsibility: how to integrate business and sustainability

Truffleland: a true story of sustainable business

'Apotheke journal of economic and social legal studies' presentation. Beyond the era of financial capitalism

Of new things: beyond globalism and sovereignism

There will also be no shortage of artistic space with Chiara Vannucchi's solo exhibition entitled "One of One," an intimate dialogue with Mother Nature, a hymn to the circularity of existence.

The President of the Consorzio Industriale Lucano, Renato Vito Bocca, will be present at the three-day event, given the wide range of topics and the depth of the various personalities participating.

For program and more information: download pdf
Video spot: